The Kleissonic Philosophy
Kleissonic is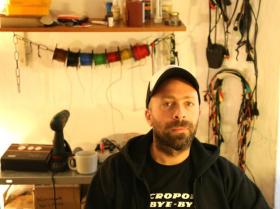 the brainchild of specialist Electronic Engineer Theodor Kleissiaris and efficiently operates as a small company producing very high quality instrument pedals. Started officialy in 2009 specializing in boutique and custom pedals. All Kleissonic pedals are hand-built to original in-house designs and is also responsible for the design of the electronic circuits – NO COPIES – and artwork, as well as all aspects of production including drilling, the soldering of the circuit boards and all other processes right to the finishing of the cast-aluminium casings.
From humble beginnings Kleissonic has grown and grown and now is an enterprise which manufactures, sells, modifies,buys and repairs all kind of units that involves the sound. Kleissonic is not a typical pedal company, it is the place to go for everything you might need concerning your sound.
We like electronics, hence sometimes we are also interested in any kind of project that includes electronics and "fun". For example, we set up electronics for Escape Rooms as well!
We don't like massive production techniques and fancy marketing tricks. We don't do endorsements. All the artists that are mentioned to our "Clients" page use some of our pedals and they are doing so because they choose to help them achieve the sounds they want to make.
You will not see us spamming all over the guitar forums and on ebay trying to sale our pedals.
We keep everything in a small production and under control, built to order, and according to your specs if desired. We are not a company that gets the circuit boards assembled from robots and call our products "handmade". We still make all our circuit boards and the wiring completely by hand.
Most important, we will not try to sell you something you may not want and we treat each customer as a prospective friend.
About Kleissonic
Theodoros Kleissiaris, born in Katerini, Greece in 1983. Theodoros began tinkering in 1996 at 13 and went on to study at the Technical Educational Institute of Crete at the Department of Electronics, graduating in 2006. His specific areas of academic interest included computational electromagnetics, antenna theory, microwaves, analogue and digital design as well as radiation and scattering of electromagnetic waves.
His thesis was based on the effects of electromagnetic radiation on humans. After graduation Theodoros worked as a Teaching Assistant at his university teaching courses in Digital Signal Processing (DSP), antennas and propagation, radars and accessories and also digital control systems.
Theodoros moved to Berlin in 2009 to follow his dream of making weird and wonderful guitar pedals. In Berlin work with many professional musicians, preparing their gear for European tours and not only. Worked for the big concerts, in stadiums in Berlin. Best moment among others, setting up Neil Young's rig. After ten year in Berlin, in 2019, Theodoros decided to move back to his home country, for a more easy life. Focused on pedals, teaching electronics, doing workshops and…making music…
photo by Tom Taylor